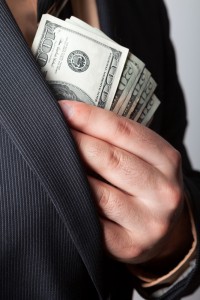 Robert Forest Held Jr., a financial advisor formerly employed with Hornor Townsend & Kent Inc. ("HTK"), has been suspended and fined for borrowing funds from a firm customer who was not an immediate family member. He violated FINRA rules and firm policies by failing to get prior approval from HTK.
FINRA prohibits financial advisors from borrowing investor funds, unless their firm has written procedures allowing it. Financial advisors are resources for investors to help them manage and earn money. Therefore, financial advisors are considered experts in the field, and are relied upon by others.
It should be a red flag to any investor if a financial advisor asks to borrow funds. This hints at the possibility of the financial advisor experiencing personal financial issues, which could lead them to give bad or biased advice. If a financial advisor is having financial trouble, he may engage in prohibited practices such as churning, sharp dealing, or unauthorized trades. All of these practices benefit the advisor to the detriment of the investor.
Here, Held borrowed a client's money twice without written permission from his firm. The first time, Held borrowed $12,000 with $600 interest from an investor's personal funds. The second time, Held borrowed $10,000 from a company funded entirely by the same investor.
In total, Held owed the client $22,600. This is a large sum of money, and should be alarming to any investor using Held as a financial advisor. If he cannot manage his own finances, it is concerning that he is giving financial advice to others. He willfully violated the FINRA rules and company policies in place to protect investors when he failed to obtain permission from his firm.
If your financial advisor has asked to borrow money from you, you may have a claim. Contact Investor Defense Law to see if you can recover your losses.
Investor Defense Law LLP is a law firm dedicated to helping investors in California, Georgia, and Washington recover losses caused by stockbrokers, financial advisers, or investment firms. To learn more, contact an investment fraud attorney at 800.487.4660.