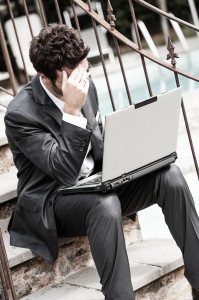 Alejandro Ariel Torres of Hollywood, Florida was permanently barred and fined $59,600 plus interest in a deferred restitution to a customer, according to Financial Industry Regulatory Authority, or FINRA.
During the time of his misconduct, Torres was a registered representative of the Florida based Global Strategic Investments, LLC. According to official reports, Torres — without the knowledge of his member firm — approached a customer for the purpose of gaining funding for his startup venture: Towers Investments, LLC.
In December 2013, Torres offered 50% ownership for a $75,000 check, which he received from the customer, a 64-year-old widow. $59,600 of these funds were not used for Torres' startup venture, but were unethically converted for personal expenses, including "BMW car payments, automobile and/or tire repairs, meals at various restaurants, and veterinarian bills."
By doing this, Torres took advantage of the widow's trust by lavishly spending her money; additionally, by not informing his member firm of the agreement between him and the widow, Torres also engaged in undisclosed outside business activities, a violation of FINRA Rule 3270.
Torres concealed his misconduct in multiple ways:
The startup venture's bank account was set up in Torres' name only. This allowed him to hide statements from the widow that would reveal his spending activities
Torres lied on official LLC documents, stating that he was the sole owner of the startup venture
When his member firm, Global, pressed Torres for more information about his startup venture — through an outside business activities questionnaire — Torres falsely stated that he was the sole owner.
As expected, during the investigation, FINRA examiners requested documents and data from Towers Investments, LLC., but Torres failed to provide them, also failing to appear and provide testimony in court. In May 2015, Torres was barred from association with "any FINRA-regulated broker-dealer in any capacity." He was ordered to pay restitution plus interest.
If you've been damaged by Alejandro Ariel Torres, or by similar brokers or investment advisors, the investment fraud attorneys at Investor Defense Law LLP may be able to help you recover your losses.
Investor Defense Law LLP is a law firm dedicated to help investors in CA, GA, and WA recover losses caused by stockbrokers, financial advisors, or investment firms. To learn more, contact an investment fraud attorney at 800.487.4660.