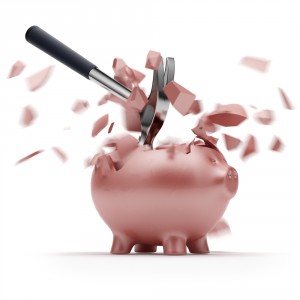 Dalas Gundersen, a financial advisor formerly with Edward Jones, has been fined and terminated for making a detrimental recommendation to customers. After following Gundersen's advice, customers invested about $1.26 million dollars in mutual funds, and lost over $50,000.
Gundersen met with the investors, a married couple, to discuss higher yielding investment options. He initially recommended that they purchase "A" shares in two different mutual funds. "A" shares are beneficial to financial advisors because advisors can earn high commissions for selling them. However, they are expensive, and investors only benefit from them if they do not intend to sell them soon after they have been purchased.
The couple followed Gundersen's advice and bought "A" shares in two separate mutual funds. However, Gundersen then recommended that the couple exchange funds from one account so that their entire investment remained in one mutual fund. Once again, the couple acted on Gundersen's advice, and invested 80% of their money in one fund. Gundersen received $2,837 in commissions as a result. By recommending the couple buy and then quickly sell "A" shares, Gundersen may have been churning their brokerage account. Churning is illegal, and it occurs when a financial advisor makes excessive trades in an investor's brokerage account. Since "A" shares are only beneficial to the investor if they keep them for an extended period of time, recommending they be bought and quickly sold is harmful to the investor. However, it is beneficial to the financial advisor, and allows them to essentially steal client money.
Gundersen violated FINRA rules by making this poor recommendation to the investors. Before making any recommendation to a customer, a financial advisor must have a reasonable basis to believe that the transaction is suitable for the customer. However, Gundersen's advice to the married couple was unsuitable and harmful. Investing 80% of the couple's money in one place is considered an over-concentration of funds, and is an extremely high risk. The financial advisor completely disregarded the financial well-being of the investors to earn commission. As a result of this misconduct, the investors lost over $50,000.
Investor Defense Law LLP is a law firm dedicated to helping investors in California, Georgia, and Washington recover losses caused by stockbrokers, financial advisers, or investment firms. To learn more, contact an investment fraud attorney at 800.487.4660.