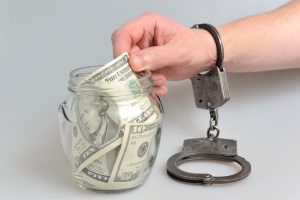 The Securities and Exchange Commission ("SEC") has charged Gray Financial Group, as well as its president, Laurence Gray ("Gray"), and co-CEO, Robert Hubbard ("Hubbard"), with fraud. The two executives allegedly sold unsuitable investments to public pension funds for the city's police officers and firefighters in Atlanta, Georgia.
Investment advisors owe investors a fiduciary duty of loyalty and due care. This means advisors must put the client's interests ahead of their own, and find investments that are in the client's best interest. Investors rely on the expertise of advisors to manage their money, therefore advisors must make certain all recommendations are beneficial for them.
Gray and Hubbard breached this fiduciary duty when they advised the pension fund clients to invest in an alternative investment fund, which was not in compliance with state law. While Georgia typically allows public pension funds to purchase alternative investment funds, the investments must meet certain requirements. Gray and Hubbard did not ensure that the fund met these requirements.
Alternative investments carry a higher risk than the traditional investments of stocks, bonds, and cash. This is because alternative investments are subject to less regulation, have high minimum investments, and aren't as easily liquidated. Furthermore, those issuing alternative investments aren't always required to post performance data so that the investors are aware of how the company is doing financially.
Not only were the recommendations made by Gray and Hubbard unsuitable to investors and in violation of state law, Gray Financial Group made a large profit of more than $1.7 million in fees. Gray Financial Group also allegedly misrepresented the facts of the fund to investors when asked about it. The firm lied about the number and identity of past investors in the fund.
Gray Financial Group put its financial needs ahead of what was in its clients' best interest. It deliberately broke its fiduciary duty as well as the state law when recommendations were made to clients to invest in an alternative investment fund. The investors were defrauded as a result of the firm's gross misconduct.
If you are concerned that your firm has made unsuitable recommendations to you, or misrepresented an investment you made, you may have a claim. Contact Investor Defense Law to see if you can recover your losses.
Investor Defense Law LLP is a law firm dedicated to helping investors in California, Georgia, and Washington recover losses caused by stockbrokers, financial advisers, or investment firms. To learn more, contact an investment fraud attorney at 800.487.4660.