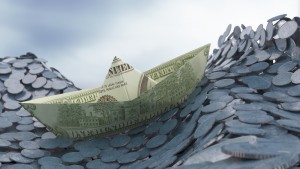 This July, Financial Industry Regulatory Authority, or FINRA, reported a recent closure of a case involving the gauche activities of OFS Securities Inc. from 2011 through 2014. The Puerto Rico based firm (now known as Oriental Financial Services Corp.) was censured and fined $50,000 for failing to produce legally required documents after years of evading the demands of the courts.
The guilty documents — which included trade blotters, account statements, and emails — revealed proof that a conflict of interest led OFS' registered representatives to recommend egregiously improper investments to clients. One client in particular lost a reported $600,000.
For this client, her fateful investments began in October 2007. OFS persuaded her to invest $1.145 million in the Puerto Rico & Global Income Target Maturity Fund, a municipal security.
At the time of the investment the client was unaware of three crucial pieces of information:
90% of her assets were invested in two promissory notes — fracturing a common rule of thumb, and violating OFS' own investment policies, which required diversification.
The payoff of these promissory notes were dependent on the "creditworthiness of Lehman Brothers," meaning big money would be lost if they defaulted.
OFS was double dipping: They recommended these promissory notes after brokering them with Lehman Brothers and selling them for a high profit.
As what would soon become painfully obvious in wake of the 2008 financial collapse, Lehman Brothers was about as safe as playing volleyball with a hornet's nest. And OFS was spiking.
The client lost over half of her money and took OFS to court.
When sued, the firm was required to produce documents and information vital to the case. Since this information would prove their double dealings, OFS claimed the documents didn't exist — they lost them or discarded them or simply just wouldn't retrieve them. SEC law requires firms like these to retain trade blotters and the like for up to six years.
Eventually, OFS did produce the documents, but not until after the FINRA arbitration hearing began. As expected the documents revealed the firm's conflict of interest, and FINRA ruled that OFS should have revealed this critical information to their clients. As of today, OFS, or Oriental Financial Services Corp, is no longer registered with FINRA or any other national securities exchange.
If you've been damaged by OFS Securities Inc., or by similar brokerage firms, the investment fraud attorneys at Investor Defense Law LLP may be able to help you recover your losses.
Investor Defense Law LLP is a law firm dedicated to help investors in CA, GA, and WA recover losses caused by stockbrokers, financial advisors, or investment firms. To learn more, contact an investment fraud attorney at 800.487.4660.